Terkejut Abang Nara mendengar berita kehilangan seorang pelajar Malaysia di Dublin. Pelajar yang bernama
Ariff Alfian Rosli
ini merupakan pelajar perubatan tajaan Petronas dan tidak dapat dihubungi oleh keluarga mereka selama 3 tahun. Menurut ayah Ariff Alfian Roslin, Rosli Haron, dia dan isteri telah 8 kali pergi ke Dublin untuk mencari anaknya. Dan hari ini misteri kehilangan Ariff telah terbongkar apabila dia didapati telah berkahwin dengan Jonathan, seorang lelaki warga Dublin.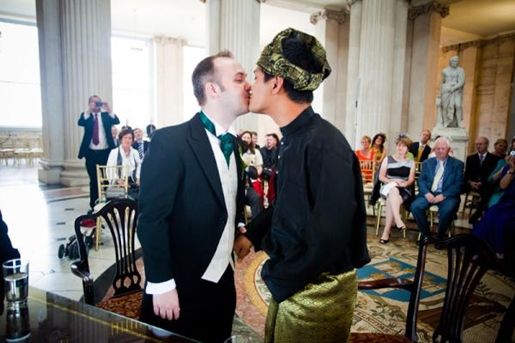 Nampaknya apa yang ditakuti oleh ayah Ariff iaitu anaknya terlibat dengan pergaulan bebas menjadi kenyataan. Ini sangat mengecewakan dan pastinya memberikan impak kuat kepada ibu dan ayah Ariff. Untuk makluman, pihak Petronas telah pun menyaman ayah Ariff selaku penjamin pertama dengan menuntut kembali wang pengajian RM890,000 yang telah dilaburkan kepada Ariff.
Sama-sama kita doakan agar Ariff Alfian Rosli menyedari yang ramai rakyat Malaysia mengetahui berita perkahwinan sejenisnya dan mahukan dia kembali ke pangkal jalan. Kepada keluarga Ariff, Abang Nara harapkan anda bersabar dengan dugaan hebat ini. Harap-harap semuanya akan kembali seperti biasa. Amin.
copy paste from beautifulnara.blogspot....
i dunno what to say with our "teenagers" or "adult"..inilah dikatakan manusia akhir zaman.....how can u a scholar medic plak tue....buat perkara x senonoh mcm nie...if u want to married or be murtad pun..buat hal la sendiri2 ini siap ko kawen..kis kiss bagai..n siap pakai baju melayu n tanjak plak tue...shame on u laa....!!!kesian la kat ur parents.....really pity them...